Toucan Jim's is committed to bringing the very best talent available in the Hill Country to our little island. From Levi Darr, Greg Wall, members of the Parrothead Band to the talents of Exit 505 and Texas Music Hall of Famer, Ronnie Leatherman of the Wascals all provide easy-to-listen-to music that goes great with a meal and an island drink. And there's never a cover charge on the island Mon! Call to reserve a table if you like!
Exit 505
The best good time dance band in the area will be on the island this weekend.
6:00 pm, Saturday, July 20th 2019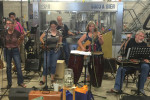 Austin Ausley
You gonna love this guy!!!
6:00 pm, Saturday, July 27th 2019